Welcome to the BC Charismatic!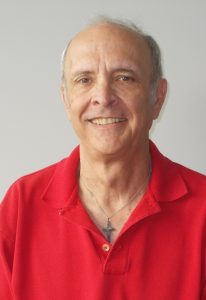 Welcome to the official website of the Catholic Charismatic Renewal in British Columbia!
We in the renewal are sharing the experience of Christians throughout the world as we strive to live out our faith under the shadow and the restrictions of the Covid-19 pandemic.
As with everyone else in the Church, our plans and our practices have had to change, in order to comply with the safety measures made necessary by this great pestilence. In BC, two charismatic conferences have been cancelled this year, and most if not all prayer groups have had to suspend face-to-face meetings.
But all is not lost. Many groups continue to meet online to praise the Lord, pray together for our needs and the needs of others, and share teachings and words of prophecy. And the annual Gathering in the Spirit in Kelowna is going ahead, online, Aug. 9-13, organized by the Nelson Diocese Charismatic Service Committee. Jim Murphy, who led an outstanding Gathering in 2019, will be "back," via cyberspace from his home in Michigan. While we will miss the opportunity to gather physically in Kelowna, the advantage is that many more people will have the chance to attend, without limitation of space. Follow this link https://www.holyspiritbaptizer.com/gathering-in-the-spirit for all the details.
Meanwhile, we're still here to share with you the blessings of what Pope Francis has called "a flood of grace for the whole Church."
The Holy Spirit, which was poured out on the first Christians at the very beginning of the Church on the first Pentecost nearly 2,000 years ago (see Acts 2), and which has been the driving force and the guide of all that our faith has accomplished ever since, was poured out on the Catholic Church again in a new and powerful way 50 years ago. Since then the Catholic Charismatic Renewal has grown to be the largest ecclesial movement in the Church worldwide, with more than 100 million participants.
While strongly faithful to the Mass, the other sacraments, traditional prayer, and the teaching authority of the Church, the renewal also offers a vibrant new way of prayer and worship, and a new power for life, ministry and service to God.
As the provincial service committee for the renewal, our task is to foster baptism in the Holy Spirit, charismatic worship, exercise of the biblical gifts of the Spirit, evangelism, growth in personal holiness, and above all conversion to Jesus Christ, our Lord and Saviour. This website is intended to offer news, resources, and inspiration for Catholics and all Christians seeking those goals.
In the service of the Spirit,
Richard Dunstan
Victoria
Chair, Catholic Charismatic Renewal Services of BC