MERCY' THEME        SEPT. 23-24
Vancouver to host
B.C. conference
               Bishop Sam Jacobs and Dr, Margarett Schlientz will be featured speakers Sept. 23 and 24 at this year's Vancouver Catholic Charismatic Conference, which will return to a familiar setting: Broadway Church.
The event is co-sponsored by Catholic Charismatic Renewal Services of B.C, the provincial service committee, and is both a provincial and an archdiocesan conference.
Theme for the conference, being held during the Year of Mercy proclaimed by Pope Francis, will be Jesus, Son of David, Have Mercy on Me (Luke 18:38).
The conference returns to Broadway Church, a Pentecostal Assemblies of Canada church approved for Catholic events, after a three-year absence using other locations.
The conference will feature Bishop Jacobs, a former chair of the U.S. National Service Committee for the Catholic Charismatic Renewal, and Dr. Schlientz, whose ministry combines training in theology, spirituality, and psychiatric nursing.
The event runs 7-10 p.m. on Friday Sept. 23 and 9 a.m. to 6 p.m. Saturday Sept. 24. Closing Mass will be celebrated at 5 p.m. Saturday, with Fr. Joseph Nguyen, Vicar-General of the Archdiocese, presiding.
Confessions and Eucharistic adoration are also scheduled.
Tickets are on sale now and are $15 until Aug. 31, $25 after that. They may be purchased from your prayer group or at fireblade@telus.net or 604-597-8227.
Bishop Jacobs is retired bishop of Houma-Thibodaux in Louisiana and was previously bishop of Alexandria, Louisiana. Born in Mississippi but raised in Louisiana, he was ordained in 1964 for the diocese of Lafayette. He served there and in the diocese of St. Charles as parish priest and chaplain, as well as diocesan director of vocations and seminarians for St. Charles. He was named bishop in 1989. He was named to the national service committee in 1982 and served as chairman from 1987 to 1993; he returned to the committee in January 2015. He also chaired the committee for evangelization for the U.S. Conference of Catholic Bishops from 2005 to 2005, and is currently a member of the committees on laity, marriage, family life and youth, and on evangelization and catechesis. He retired as diocesan bishop in 2013 but continues to serve as a speaker, as well as operating the Spirit Aflame website, http://www.spiritaflame.org/ . He was featured speaker at the 2015 Our Lady of Pentecost Summer Institute in Kelowna.
He may be seen on YouTube at http://www.bing.com/videos/search?q=youtube+bishop+sam+jacobs&qpvt=you+tube+bishop+sam+jacobs&FORM=VDRE.
Dr. Schlientz, a Wisconsin resident, holds a doctorate in psychiatric nursing and master's degrees in theology, spirituality, and psychiatric nursing. She is the founder of the Pope Leo XIII Institute for the education of priests in exorcism and deliverance, and is assistant director of the Institute for Priestly Formation at Creighton University in Nebraska. She is co-author of the RISEN program (Re-Invest Spirituality and Ethics in the              Networks of Health Care), and presents it regularly to health care systems across the U.S. She has held teaching and administrative posts at Marquette University in Milwaukee, speaks at conferences and parish missions, and ministers as a spiritual director to priests. Her website is https://drmargarettschlientz.com/. She is on YouTube at https://www.youtube.com/watch?v=yre6KPH7RJg.
A prayer room and book tables will be available at the conference. Light refreshments will be available on site, and there are several restaurants nearby.
Broadway Church is located at 2700 East Broadway, corner of Slocan, and near the Renfrew SkyTrain station. There is parking on church property.
VANCOUVER 2015
Jesus will never disappoint you
 By RICHARD DUNSTAN
Do you need to be healed? Put your trust in Jesus and you won't be disappointed, says Sister Linda Koontz.
"To believe means to put all your weight on what Jesus has said," she told a crowd of 1,100 at the 2015 Vancouver Catholic charismatic conference Sept. 18 and 19 in Surrey. "Those who trust in Him will never be disappointed."
Sister Linda, of El Paso, TX, has worked with the poor of Ciudad Juarez, across the Rio Grande in Mexico, since 1977. Before that she was a key figure in the rise of the Catholic charismatic renewal in Canada, touring B.C. and Alberta in 1969 preaching about the Holy Spirit after she was baptized in the Spirit herself in her native Washington State.
Theme of the conference, held at Chandos Pattison Auditorium, was "I am willing—be healed," and Sister Linda said Jesus is always willing. "There are no rules—Jesus heals all the time." She said many people who believe Jesus can heal them still think it's rare and unlikely, like winning the lottery. "Guess what—that's a lie," she said.
"Healing is not proof of the [Gospel] message. It is the message. The Kingdom of God is wholeness and healing. 'Salvation' means heath—in Greek it means being preserved from death and freed from disease, and 'Jesus' in Hebrew means the God who heals, the God who saves, the burden bearer, the one who breaks the yoke."
Fear, negativity and unbelief can keep us from being healed, she said, and so can unforgiveness, even in the form of resentment. ("Resentment is hatred with a tuxedo on," she said.) As to negativity and unbelief, "pray until you get results. If we're going to rise up [and be healed], we must cry out to Jesus and not go anywhere else."
Fear, she said, is one of Satan's biggest weapons, but the Bible is clear: "fear not." "Ninety-two per cent of what we worry about doesn't happen," she said. "When we're in fear, we can't pray. It destroys our faith. Today we must decide whether to live by fear or faith."
Fear can't be hoped or wished away, she said—only prayed away. And "fear not" doesn't always mean "don't feel afraid"—it means don't run away. "Sometimes we have to do things afraid," she said. "But as we take that step, we find that the Lord is there."
Sister Linda said she was originally prayed over for baptism in the Holy Spirit by teenage students who told her she needed it.
"The miracle was that I kneeled down," she said. "I told them 'I have the Holy Spirit.' They said, 'yes, Sister, you do, but He's in the refrigerator—you have to let Him ouit."
Before her baptism in the Spirit, she said, "I was one dead nun. The Gospel doesn't just make good people better. It brings dead people to life."
Also speaking at the conference was Father Jerry Thompson of Los Angeles, who has been a charismatic since before his ordination 21 years ago. He has training in psychology as well as theology and had ministries in holistic healing and spiritual direction. He also has a strong devotion to the Blessed Virgin Mary.
Father Thompson said healing can be mental or emotional as well as physical and can also involve the whole family. A key to healing, he said, is forgiveness. "Forgiveness is an act of love, and love is of God. To forgive is to experience God's love in our own life, and to allow others, through our forgiveness, to experience God's love for us."
To forgive, he said, we must embrace whatever needs to be forgiven, and then let it go. "One never forgets, but one must always forgive," he said. "God wants us to be whole, and that begins by letting other people off the hook. Let God take care of it."
We are still entitled to protect ourselves from an unhealthy relationship with the person we're forgiving, he said; "forgiveness is not the same thing as reconciliation." But hatred and vengeance are out. "When we decide to hate someone, we automatically begin to dig two graves: one for them and one for ourselves."
Father Thompson said devotion to Mary is important because she will make the gifts we give to God more perfect as she presents them. "We have God's grace, but she has all of it," he said. "Jesus always does what His mother asks Him to do, because He is an obedient son."
Archbishop Michael Miller celebrated the closing Mass for the conference. He said in his homily that parents are considered by the Church as the first evangelists and catechists of their children, and their work cannot be outsourced to other agencies. "None of our great Catholic schools can ever supplant your role as parents."
He said parents should present the Gospel joyfully, keep learning about their own faith, read the Bible to their children, and attend Sunday Mass as a family. "You can't shut down their [children's] questions. You must know the faith," he said. As for the Bible, it's best to start with the Gospels; "don't begin with the book of Genesis and think you have to plow through."
KELOWNA AUG. 7-12
Koontz, Ibekwe to speak at Institute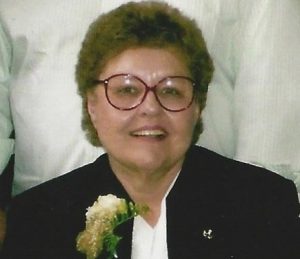 Sister Linda Koontz and     Father Sylvester Obiora Ibekwe will be featured speakers at Our Lady of Pentecost Summer Institute, to be held Aug. 7-12 at Elizabeth Seton House of Prayer in Kelowna. (An incorrect date was reported in the fall 2015 B.C. Charismatic newsletter.)
Theme of the institute will be Receive Mercy—Move Forward in the Spirit. Chosen scripture text is Romans 10:13, "All who call on the name of the Lord will be saved."
The institute, aimed at discipleship and leadership formation, is sponsored by Nelson Diocese Charismatic Renewal Service Committee and endorsed by Catholic Charismatic Renewal Services of B.C., the provincial service committee.
The institute opens with a 5:30 p.m. outdoor Mass Sunday, Aug. 7, followed by registration, refreshments, praise and worship, and ends after lunch Friday, Aug. 12. The program includes daily Mass, morning and afternoon teaching and panel discussions, and evening devotional programs. All activities will take place at Seton House except for a healing Mass to be held at 6:30 p.m. Monday, Aug. 8, at St. Charles Garnier parish in Kelowna.
Other evening devotional programs will include praise and worship, a prayer meeting, and exposition and benediction of the Blessed Sacrament, with one free evening. The sacrament of reconciliation will be offered at lunchtime Tuesday through Thursday.
Cost of the institute is $500 ($550 after June 15) for all sessions, accommodation at Seton House (double occupancy), and all meals. Commuter fee is $275 ($325 after June 15) for all sessions plus lunch and supper.
Accommodation is limited to 30 at Seton House and daily attendance to 40. Some billeting may be available.
Sister Linda Koontz, originally from Washington State, was a pioneer of the Catholic charismatic renewal in B.C. and Alberta following her baptism in the Holy Spirit in 1969. She has worked in the renewal full-time since 1971, moved to El Paso, Texas in 1977 to work with the poor of Ciudad Juárez, across the Rio Grande in Mexico, and in 1986 founded Spirit of the Lord International Mission to offer evangelization,
food, housing, and medical care for the poor of Juárez. She is a member of the Sisters of the Holy Names of Jesus and Mary, a congregation dedicated to service of the poor.
Sister Linda was also featured speaker at the Vancouver archdiocesan charismatic conference in September 2015 (see Page 2).
Father Sylvester Obiora (Obi) Ibekwe, originally from Nigeria, was ordained for the Nelson diocese in October 2015 and is currently assistant pastor at St. Pius X parish in Kelowna, as well as serving St. Edward's parish in Lake Country/Winfield.      He has long been active in the Catholic charismatic renewal and was featured speaker at Our Lady of Pentecost Summer Institute in 2014 and 2013.
Roy MacIntyre is co-ordinator of this year's    Summer Institute, with Loree Renwick as MC and Father Obi as host and Mass celebrant. Gladys Miller will lead panel discussions and Johanna Tournemille is organizing music. Donna Goss and Peter Weiler will co-ordinate services at Seton House, with Evelyn Puckey in charge of meals.
For information, please contact Roy MacIntyre, 778-516-2769, roymacintyre@shaw.ca; to register or for billeting inquiries, contact Maria, 250-707-1423, untamedspirit@telus.net
"The Institute is our opportunity to gather with Mary, the mother of Our Lord, calling upon the Holy Spirit to inspire us and impel us to move forward in the power of the Spirit to bring the knowledge of God's love and mercy to our communities and the waiting world," says a statement from Summer Institute organizers. "It is here that we learn to listen, and, like Mary, ponder in our hearts and integrate God's message for us and be moved to share with all what God is doing in the Church today.
"This year will be listening to how we may live and apply mercy in our lives and show mercy to our communities with the help of the Holy Spirit."
Cranbrook hosts day of renewal
By LYNNE WILLIAMS
People of Unity Prayer Group, Cranbrook
On a rainy Kootenay Saturday in March, the People of Unity prayer group hosted an East Kootenay deanery day of renewal featuring the Nelson diocesan ministry team of  Father Sylvester Ibekwe as guest speaker and Johanna Tournemille and Gladys Miller as music leaders. Twenty-four people from throughout the deanery participated.
Father prayed, "May we be revived and strengthened in our faith and renewed by love for you and for each other." God created us for happiness and we all search for it. Happiness is different from pleasure; pleasure cannot be sustained without the activity producing it. Food, success, and certain activities give us pleasure, but we always need more to continue the pleasure; pleasure does not bring enduring happiness. Happiness stays with us no matter what happens.
Father's talks included the following topics:
What is the essence of happiness? In what and whom does it exist?
What is the meaning of the Beatitudes?
What is the meaning of evil and suffering? How do we approach them and the difficulties of life?
When Abraham said yes to God, he made a journey in darkness, trusting God. Likewise, to be a Christian is to journey in darkness and to move forward in faith, trusting in God's light.
What is happiness? In whom is it found? "When Jesus saw the crowds, he went up the mountain; and after he sat down, his disciples came to him. Then he began to speak, and taught them saying; 'Blessed are the poor in spirit, for theirs in the kingdom of heaven.'" (Mt. 5:1-3 NRSV)  The Greek word, μακαριοι, here translated "blessed," properly means happy. (Benson Commentary http://biblehub.com/commentaries/matthew/5-3.htm)
Biblically, when Jesus goes up the mountain, he goes to pray. Praying helps him find the will of his Father. This was difficult for him because he was human. "In his anguish, he prayed more earnestly, and his sweat became like great drops of blood falling down on the ground." (Lk. 22:44 NRSV)
When Jesus sits down to teach he assumes a position of authority. Sitting down is important. (Mt. 13:1-2, 15:29, 24:3-4, 26:55) When Matthew writes, he began to speak, he is telling us something important will happen; listen. In his reference to the mountain, he shows how the New Testament fulfils the Old Testament. He is telling the Jewish people Jesus is the new Moses, presenting the new law. Moses appearing at the transfiguration on Mount Tabor means the law with its commands was fulfilled in the person of Jesus, who magnified the law by teaching the law of the Love of God. If we base our lives on love, we will be satisfied and happy.
Matthew, unlike Luke's version of the Beatitudes, adds the words "in spirit" to "poor."He includes the religious sense to show the Jewish people that Jesus is the fulfillment of the scriptures. In Nazareth, Jesus reads, "The Spirit of the Lord is upon me, because he has anointed me to bring good news to the poor," (Is. 6:1-2, Lk.4:18-19 NRSV) then announces, "Today this scripture has been fulfilled in your hearing.
In the Kingdom of God, things are turned upside down; there is a reversal of values. The Beatitudes begin with the poor, who are blessed in spirit. The rest of the world says "blessed are the rich; they are the happy ones." But, what does the Bible say? "My help comes from the Lord, who made heaven and earth." (Ps. 121:2) God's help for the poor and afflicted is referenced many times, (Ps, 12:5, 14:6, 22:24, 27:14: Is. 10:2, 26:6) In Matthew, the followers of Jesus were poor in spirit and fact. Where then does happiness (blessedness) lie? Like the poor person who is totally dependent on him for everything, we must look to God to find our happiness.
At the beginning of his second talk, Father played his guitar and lead us in a spontaneous prayer-song:
"There is something that makes me
Come into your presence, by your love,
My Redeemer, My Savior, My Father.
For you died for me, my helper.
You gave me life, my helper.
You gave me friends, my helper.
You gave me hope, my helper.
We have come because we want to encounter you in any way. We will be quiet and listen to your voice.
Your presence brings us life, strength, hope. Thank-you Lord for bringing us together.
When we come into your presence, we're so happy, so glad. For in your presence,  there is anointing and in your presence his Spirit surrounds us…"
We believe in the almighty God from whom everything comes. To enjoy this peace and contentment, we have to put aside our life and put it into the life of God. "For, 'In him we live and move and have our being.'" (Acts 17:28) I am a dependent being. To be means to be in the life of God; enjoy swimming in the life of God; enter into the dance.
In Life in the Spirit means to become one with God who becomes the dwelling place of where we want to be. That's where Jesus wanted to be. Everything he did came from that source of being with the Father. We will do more and have more satisfying lives if we live in his presence. True freedom is a liberty of spirit; Jesus came "to proclaim liberty to captives." (Isaiah 61:1)
Something had been seen in Jesus that the disciples had not seen before and a disciple asked, "Lord, teach us to pray, just as John taught his disciples." (Lk. 11:1) When we pray, we enter into his presence and partake in a relationship that is transforming. The Kingdom of Heaven begins here, "Because your steadfast love is better than life." (Ps. 63:3 NRSV) and is fulfilled in the next world.
"Blessed are the meek for they will inherit the earth." (Mt. 5:5) The humble will inherit the earth and be exalted. (Mt. 19:28) "Take my yoke upon you and learn from me, for I am gentle (meek) and humble in heart, and you will find rest for your souls."(Mt. 11:29 NRSV)
The meek do not establish themselves above other people and this is not a weakness. Jesus was meek, but spoke his mind, encouraging us to speak the truth in charity and love.
"Blessed are those who hunger and thirst for righteousness, for they will be filled. (Mt. 5:8 NRSV) What do we mean by righteousness? When we live in God, we too become righteous, just, and have integrity. Jesus took away our shame. We do not have justice and righteousness in ourselves. He has it. The ultimate source of righteousness comes from God.
"Blessed are the merciful, for they will receive mercy."(Mt. 5:7 NRSV) To be merciful is a fundamental demand that God is making of us. "I desire mercy, not sacrifice." (Mt.9:13) Jesus miracles are examples of living mercy, (Mt.5:43-48, 9:26-31, 15:21-28, 17:14-18, 20:29-34, 25:31-46, Heb. 2:17) Mercy should be shown to everyone, even our enemies and those from whom we are estranged and alienated. We are to open our arms and embrace one another in our beauty and our brokenness. The Parable of the Prodigal Son is an excellent example of the mercy of the Father. Mercy brings us to restoration and revival. The only way to peace in the world is to reach out to embrace one another and to initiate the move of mercy. Merciful action is a concrete sign that we are loyal to our heavenly Father. He demands an activity of loving kindness benefiting other people.
The kingdom of God will bring us six things: permanent inheritance, comfort and peace, mercy, fulfillment, closeness to God, and sufferings and persecution. The Beatitudes bring us consolation and comfort when we face evil and sufferings; they bring into perspective the difficulties of the present moment, lessening pain and anguish, and encouraging us to move forward.
God's promises, which we hold in our hearts, are being fulfilled in the here and now and will be completed in the future reign of God. We can put our trust in God and not be afraid of living today and tomorrow. The promises possess a secret vision and hope that will make suffering powerless and bearable.
Nelson leaders learn about discipleship
By LYNNE WILLIAMS
On April 20, 1999, two teens went on a shooting spree at Columbine High School in Littleton, Colorado, killing 13  and wounding more 20 before committing suicide. The crime was the worst high school shooting in U.S. history.
Deacon (now Father) Sylvester Ibekwe's opening talk to the Nelson Diocesan leaders' retreat, in September at Seton House in Kelowna, began with this story. A survivor was shot 12 times when she answered, "Yes," to the question, "Do you believe in God?"  When asked why, she said, "Because my parents taught me and that's why I believe it myself…My life is a miracle."
Living our faith the way we are capable of is what changes the world. As a mother of a murdered teen has said, "No matter what evil we perpetuate on each other, God wins in the end."
A disciple is a student; for discipleship, there needs to be an attraction to the person we are following. Holiness is the most attractive thing in the world. Beauty draws us in, changes us and sends us on a mission. It does not allow us to stay the way we are.
Jesus was not a boring guy. He brings wine to a wedding, food for a picnic, protects women from stoning, raises the dead to life at a funeral, and heals the sick of their illnesses. He was radical.
"He (rich man) said to him (Jesus), 'Teacher, I have kept all these (commandments) since my youth.' "Jesus, looking at him, loved him and said, 'You lack one thing; go sell what you own, and give the money to the poor, and you will have treasure in heaven; then come follow me.' " (Mark 10:20-21 NRSV)
Discipleship is not easy; it has a cost and we cannot do it on our own. We need the look of love.
St. Paul says, "I want to know Christ and the power of his resurrection and the sharing of his sufferings by becoming like him in his death, if somehow I may attain the resurrection from the dead. (Phil.3:10-11NRSV)
We can never really know Christ, but each day we can strive to know a little bit more. It is only in heaven that we will really know him. In order to know God, one has to be known – standing naked before him, wearing no masks. One must surrender all, holding nothing back.
The Holy Spirit partners with us to show us areas in our lives that need to be worked on, illuminating us and shedding light on our path; this can take a long time. The journey of illumination leads to unity with God. Not many people arrive at this destination in this life.
"For through the law I died to the law, so that I might live to God. I have been crucified with Christ; and it is no longer I who live, but it is Christ who lives in me. And the life I now live in the flesh I live by faith in the Son of God, who loved me and gave himself for me. (Gal. 2:19-20 NRSV) When such unity happens, we are able to listen to God and others. We experience a sense of tranquility and serenity and actually seek the good of the other. Our goal is to decrease so that others may increase.
Gladys Miller, chair of the Nelson diocesan service committee, gave the second talk. She said God enhances discipleship through leadership by pouring out his abundant grace. There is a cost in that nothing is promised in this life, but much is promised in eternal life. When we focus on the world, the cost is sometimes too great; when we focus on Jesus, the cost is not too great.
Dietrich Bonhoeffer's book titled, The Cost of Discipleship, centres on the Sermon on the Mount and the theology of costly discipleship. From a temporal point of view of the Beatitudes, people do not feel blessed and happy when poor, in mourning, hungry, etc. What makes the Beatitudes acceptable is what follows afterwards– the kingdom of heaven, seeing God, being called a child of God, etc.
 "It is a fearful thing to fall into the hands of God." (Heb. 10:31 NRSV)
Discipleship involves a spiritual revolution; it is a call to put away old way of life and put on a new self, requiring discipline, and a willingness to listen to God and imitate Jesus.
One must learn that God loves us for who we are, not for what we do. Some costs of discipleship include alienation and isolation within the Church (obedience to God comes before obedience to people); feelings of losing control because of lack of obedience; rejection by family and friends because of our activity; discouragement—the cost of fidelity requires hope regardless of our circumstances; difficulty in letting go of what we want to do – avoiding God's signals; giving up our own agenda – seek God's will.
Being what God wants us to be has a human cost. God will often give us prestige and possessions, but there is no guarantee. Give up everything that does not lead to God, including our worldly ambitions. "For the grace of God has appeared, bringing salvation to all., training us to renounce impiety and worldly passions, and in the present age to live lives that are self-controlled, upright and godly, while we wait for the blessed hope and the manifestation of the glory of our great God and Savior, Jesus Christ. He it is who gave himself for us that he might redeem us from al l iniquity and purify for himself a people of his own who are zealous for good deeds." (Titus 2:11-14 NRSV)
"May I never boast of anything except the cross of our Lord Jesus Christ, by which the world has been crucified to me and I to the world." (Gal. 6:14 NRSV)
We are called to serve. "You call me Teacher and Lord – and you are right, for that is what I am. So if I, your Lord and Teacher, have washed your feet, you also ought to wash one another's feet. For I have set an example, that you also should do as I have done to you. Very truly, I tell you, servants are not greater than their master … If you know these things, you are blessed if you do them." (Jn. 13:13-17 NRSV)
"Then Jesus told his disciples. "If any want to become my followers, let them deny themselves and take up their cross and follow me.'" (Mt.:16:24 NRVS) We make a choice for discipleship out of love for Jesus. Our true commitment to Jesus is revealed in our struggles as we turn to him in all circumstances. "Do not worry about anything, but in everything by prayer and supplication with thanksgiving let your requests be made known to God. And the peace of God, which surpasses all understanding, will guard your hearts and your minds in Christ Jesus." (Phil. 4:6-7 NRSV)
If our identity is in possessions and the ungodly things of this world, God does not recognize us. God made whole the person he called us to be; this is our identity as a child of God. Isn't now the time for us to co-operate with God's plan and discover the child God created?
Deacon Sylvester began the last teaching on My Identity in the Journey of Discipleship, with a lesson in Greek. Μakarios is often translated as blessed, but more accurately translates as happy or fortunate. "Blessed are the poor…" (Mt. 5:3 NRSV) The poor are branded with labels: economically deprived, marginalized, and facing injustice, misfortunes, disappointments and betrayals. Because of their destitution and suffering, a poor person can put their trust in God and his provision. "…so that they would search for God and perhaps grope for him and find him – though indeed, he is not far from each one of us. For in him, we live and move and have our being…" (Acts. 17:27-28)  God's happiness becomes their happiness.
In John's gospel, John is humble; no mention is made of his name. But he mentions John the Baptist 20 times, because he was a witness, not an authority. John, "the disciple whom Jesus loved," (Jn. 21:20), valued witness more than authority.
The word "apostle" does not appear in John, but the word "disciple" appears 78 times. In John, the disciples live in a community of equals. A leadership position does not make one superior. Top-down leadership leads to disunity. There is authority of service, not dominance of service.
"Jesus said to them again, 'Peace be with you. As the Father has sent me, so I send you.' When he had said this, he breathed on them and said to them, 'Receive the Holy Spirit. If you forgive the sins of any, they are forgiven them; if you retain the sins of any, they are retained."(Jn. 20:21-23)  Three things were needed to ensure harmony and order:  bond of love; common experience of the Holy Spirit; service of humility
John's anonymity is very deliberate. In Jewish tradition, the name is very important. What gives John his identity is the fact that God loves him. Because the disciple remains unnamed, readers can place themselves into the story of the beloved. Our real identity comes from the fact that we are loved. It is enough to be the beloved of the Father.
I begin to live when I find me. When I find me, I can delight in and promote the other person. When you know you are loved, you can see the goodness of the other and take time to bless and welcome them.
When my identity comes from my relationship with Jesus, it leads to self-emptying and a consummation of all virtues in order that Christ will live in me.
When I find me, I can begin to lead. When I find me, I will give myself in service.
Upcoming events
| | | |
| --- | --- | --- |
| April 29-30 | Nelson diocesan Conference  |  Kelowna |
| | Mercy Is Falling; speaker Fr. Pierre Ducharme | St. Pius X parish |
| | contact: Gladys Miller russ-m@telus.net 250-442-8589 | |
| | | |
| May 14 | Pentecost celebration | Coquitlam |
| | | |
| 9 a.m.- 1 p.m. | with Fr. Ray Usman, Archbishop's liaison | All Saints parish |
| | contact: fireblade@telus.net 604-597-8227 | |
| | | |
| May 15 | Pentecost celebration | Victoria |
| 3:30 p.m. | Roland and Marian Wauthy, guest speakers | St. Patrick's parish |
| | contact: Richard Dunstan 250-477-4700 | |
| | | |
| May 28 | Prayer Breakfast | Penticton |
| 9:00 a.m. | Father Rex Velmonte | St. John Vianney |
| | 361 Wade Avenue | |
| Aug. 7-12 | Our Lady of Pentecost Summer Institute | Kelowna |
| | with Sr. Linda Koontz and Fr. Sylvester Obiora Ibekwe | Seton House |
| | contact: Roy MacIntyre,  roymacintyre@shaw.ca  778-516-2769 | |
| | | |
| Sept. 23-24 | B.C. provincial and Vancouver archdiocesan conference  | Vancouver |
| | with Bishop Sam Jacobs and Dr. Margarett Schlienz | Broadway Church |
| | contact: fireblade@telus.net 604-597-8227 | |
To include your Life in the Spirit Seminar, prayer breakfast, healing Mass, day of renewal, or other charismatic event in this listing, email B.C. Charismatic editor Richard Dunstan at  richard@thedunstans.com
Look beyond the selfie—and the self
By ANN BRERETON
ICCRS representative for Australia
Imagine an archaeological dig site in 1,000 years' time. A long aluminium stick with a claw on one end and button on the other is found. After much research it is discovered to be a "selfie-stick" from the 21st century. It is displayed in the National Museum with the following inscription "Selfie Stick. A popular photographic tool used by our ancestors to capture a moment in time, with the operator of the device being the main attraction."
Most of us have participated in a "selfie" or possess our own "selfie stick." I remember being told by a professional photographer that where possible I should include a person or people in holiday scenery snaps, as this can help to recall where and when the photo was taken. However, the scenery or event remained the subject of the photo, unlike today. The selfie-stick phenomena in which we are now living has shifted the attention to 'self' being at the centre and all else as incidental.
This is not a new trend. Reflecting back through the years to family snaps, our usual reaction when seeing them for the first time is to look for myself. If it's a good photo of me, then I love the snap and may even put it on display, regardless of what everyone else looks like. If it's a bad photo of me, although everyone else looks fantastic, the photo could be relegated to the bottom drawer.
So fundamentally little has changed when it comes to photography and our response to it. The basic human need to be acknowledged, or even adored, is a temptation faced by many. The current affair with the selfie stick feeds this egocentric desire and can easily become an inordinate attachment and sometimes addiction which feeds our need for recognition.
The voice of social media today bombards us with the messages that we are of value and acceptable only if we are at our most glamorous and sometimes we are driven to post a selfie which proves this. Now of course, it's possible with body-slimming, skin smoothing and age-defying filters and apps, to change our appearance, to change from our true self to that which will be acceptable to others. The number of "likes" we get will tell us is we've been successful in this task.
A recent quote I read said "People get obsessed with likes. It's an addictive drug. You get a taste of it, and then you want it more and more. People can tell you the precise moment they broke 100 likes." Alternately, we can feel ostracised and depressed if we do not receive the desired response. This can cause a spiral into an abyss of depression, which can have terrible consequences.
We would do well to heed the words found in Samuel 16:7 "The LORD does not look at the things man looks at. Man looks at the outward appearance, but the LORD looks at the heart."
As Christians we are not called to "throw away the selfie stick." However, I believe we are challenged to look beyond the "self." A selfie can be a wonderful tool to enable us to look at the world a little differently. A photo is usually taken to seize a moment, an emotion, a scene or a place which holds importance to us. Look beyond self in the picture and "see" what is happening in the background. Your photo may contain an act of kindness, of love or joy. If scenery, its beauty could remind you of the majesty of God. Look to the other people in the photo. Give thanks to God for them. Be real and true to yourself. Give thanks for who you are created to be in God's image: "I praise you because I am fearfully and wonderfully made." (Ps. 139:14) Selfies do not have to be narcissistic; they can and should include the other.
Let us continue to capture the moment! But also to see beyond ourselves. It is then that our world is enlarged, our lives are enriched and God is given praise and thanks.
—ICCRS Newsletter
PREPARING FOR CHARISMATIC JUBILEE
Don't keep the fire to yourself
By DEACON CHRISTOF HEMBERGER
ICCRS council member, Germany
When I was young I used to attend a summer camp. In the evenings, we regularly had bonfires. One of the team placed wood in an elaborate tower. When it was lit, the dry sticks burnt until high flames ignited the thicker logs which would burn way into the night. A bit of wood was added regularly to feed the fire so that it would burn for a long time.
These bonfire evenings came back to mind when reflecting on our motto towards the golden jubilee of the Catholic Charismatic Renewal in 2017: After "Fire Starters" (2012-13) and "Fanning the Flame" (2014-15) we now begin the year 2016 with "Spreading the Fire."
It is relatively easy to start a fire or to be ignited by a fire. To keep a fire burning for a long time, through all of life's tempests and adversities, is a rather difficult task. It takes stamina and perseverance.
I think the fire that was entrusted to us as a Charismatic Renewal resembles the bonfires of my youth: a fire was entrusted to us: the experience of the action of the Holy Spirit in our lives, in our Church, in our time. This fire should now burn in us, should become big and strong. There are three questions we need to ask ourselves:
How can we let this fire take hold of us (anew)? Over the last few years, we have really focused on this question. It is about experiencing the action of the Holy Spirit afresh every day. It is about living in the power of the Holy Spirit. The Baptism in the Holy Spirit and using the charisms both in our daily lives and in special situations are the foundation. These experiences resemble the lighting up of the fire: Enthusiasm springs forth, flames spread in no time, the fire burns brightly and can be seen from afar.
How can we keep the fire burning for a long time? A fire needs to be fed; you constantly need to add logs or the fire will die down. The same is true for our relationship to God. It is not enough to know about baptism in the Holy Spirit or to have experienced it way back. We constantly need to focus on God, seeking His pres¬ence. We need to let Him fill us and take hold of us over and again.
This is the only way to safeguard that the fire is not just a flash in the pan. This is how our personal life can withstand the tempests and adversities of life and we do not remain in the initial excitement or even lose it but grow in depth and matu¬rity. A continuous encounter with the Lord, constantly being filled with the Holy Spirit and an intimate prayer life, is what it takes to not only ignite the fire but keep it burning for a long time.
Finally, the third and last question: For whom is this fire supposed to burn? Has God entrusted us with the fire so that we feel good, enjoying a cosy life in our prayer groups? Of course not! Sure, the Spirit of God should take hold of our personal lives penetrating us with his power, joy and peace day by day. But this is not the end of the task, but the beginning. We are called to share and pass on this fire. We share in the mission of Jesus to set captives free, to open the eyes of the blind, to let the oppressed go free and bring the Good News to the poor of this world (see Lk 4:18-19). We live in a world that cries out for God's love. To pass on the good news is truly necessary. But how can it be done concretely, and above all effectively?
I think we first need to answer the question: Have we started to keep the fire to ourselves? If this is the case, we need to repent and refocus. Then it is important to serve and above all live where God has placed us. This is where we are to be living testimonies to the world. Many have gotten used to withdrawing to a pious corner and renounce the world. I believe this is not what God wants. He has called us into this world to live there as His witnesses. There we can pass on what we have received through relationships and by serving our neighbour.
At the start of this new phase towards our jubilee 2017 I want to encourage you today to keep the fire burning that God has placed in your life. This is best done by a regular prayer life and a deep relationship to the Lord. Only then will we succeed on the long to keep the fire burning that God has placed in us. And only then will we succeed in passing on this fire to others.
—ICCRS Newsletter
International leadership training scheduled in Rome this summer
The seventh Leadership Formation Institute sponsored by International Catholic Charismatic Renewal Services will be held Aug. 28-Sept. 17 in Rome.
Registration is currently open for the three-week event, which will offer classes, workshops and practical teaching on Scripture, ecclesiology, pneumatology, mariology, kerygma, leadership and ministry. Field trips in Rome are also scheduled.
The cost is 1,850 Euros per person, which includes course fees, accommodations (double occupancy), local transportation, entrance fees to sites visited, and transport to and from the airport. Single occupancy is available for an additional 250 Euros.
"The purpose of the course is to encourage and strengthen current service leaders in the Renewal, as well as to help develop future service leaders for ministry within the Church and the Renewal," says an email from ICCRS headquarters.
Those attending must submit a letter of recommendation from their national service community or leaders of their own community and a letter of recommendation from their parish priest or spiritual director, plus one passport photo, a photocopy of the photo page of their passport, and a brief curriculum vitae with evidence of a leadership background.
The course, normally held every second year, is being held a year early because 2017 will be devoted to celebrations of the 50th anniversary of the renewal.
More information is available at
http://www.iccrs.org/en/vii-leadership-formation-institute-rome-italy/ .
Catholic Charismatic Renewal Services of B.C.
 Flo Reid (Nelson diocese), chair
826-14th St. South, Cranbrook, BC V1C 1X9
phone 250-426-7570      fmreid45@gm  ail.com
Fr. John Brioux, spiritual adviser, 604-984-6709
Lennie David, Vancouver archdiocese 604-594-7296
Richard Dunstan, Victoria diocese, newsletter editor 250-477-4700
Alex Lim, Vancouver archdiocese, 604-435-9134
David MacIntyre, Victoria diocese, 250-383-9955
Flo (chair) and Jim Reid, Nelson diocese 250-426-7570
Jocelyn Rochard, Vancouver archdiocese, treasurer 604-469-0713
Lindael Rolstone, Kamloops diocese, secretary
B.C. Charismatic
CCRS of BC newsletter
published spring and fall
editor Richard Dunstan
308-225 Belleville St.
Victoria BC V8V 4T9
email: richard@thedunstans.com
phone: 250-477-4700
website: www.bccharismatic.ca

Posted in Uncategorized