Awake from your sleep!
Renewing the power of the renewal after 50 years
By FRANCIS EDO ELOTU
ICCRS council member—Nigeria
The fruits of the charismatic renewal in the lives of Catholic men and women when it started in 1967 left no one in doubt that the renewal was the work of the Holy Spirit, and with time, it was accepted by the whole Catholic Church. The renewal brought freshness in the life of the Church, and people touched by the power of the Spirit were experiencing conversions, expressive praise and worship, spontaneous praying, speaking in tongues, healings and miracles, prophecy, evangelization and other spiritual gifts.
However, as we celebrate the golden jubilee of the Catholic Charismatic Renewal in 2017, it is pertinent to ask ourselves whether our fervour had retained its vigour over the years.
Spiritual slumber is a state of indifference to God and His calling upon our lives; it insidiously develops in a formerly fervent Christian. It is a common trend in human beings to allow the fire of renewal to gradually chill into lukewarmness and slumber unless a person is spiritually alert. Jesus used hard words for the Church in Ephesus when He told them in Rev 2:4 "But I have this against you, that you have abandoned the love you had at first." In Mt 26:40-41, when Jesus found His disciples asleep, he woke them up telling them to watch and pray that they would not fall into temptation. St. Paul in Ephesians 5:14, 1 Thess 5:6 and Romans 13:11-14 told his audience to wake up from sleep. Jesus in Rev 6:15 said: "Lo, I am coming like a thief! Blessed is he who is awake, keeping his garments that he may not go naked and be seen exposed!"
This Jubilee affords us an opportunity to re-examine our lives and repent of the sin of sleeping while we ought to be awake doing God's work. To stay awake in times like this, the following are practices would be helpful:
Aspire to grow in the grace of our Lord and Saviour Jesus Christ. You must be acutely aware at all times that you need the grace of God to succeed as a Christian; ask the Lord daily for this grace. Paul told Timothy that he needs to be strong in the grace that is in Christ Jesus (2 Tim 2:1).
Spend quality time with the Lord every day. Regular visits to the Blessed Sacrament afford you the opportunity to be intimate with the Lord. Power flows from God to us when we are in His presence. Psalm 16:11, tells us that in God's presence, there is fullness of joy and on His right hand, there are pleasures forever.
Practice the presence of God. It means muttering a prayer before all your activities of the day. When you cultivate an awareness of God's presence in all you do, sin will be repugnant to you. "He 'prays without ceasing' who unites prayer to works and good works to prayer. Only in this way can we consider as realizable the principle of praying without ceasing." (CCC 2745, quoting Origen)
Establish a personal culture of Pentecost, wherein you ask the Lord for a fresh outpouring of the Holy Spirit upon you daily. By this you would not be living on stale manna. Praying in tongues for extended periods daily helps you build your inner man (1 Cor 14:4). The Holy Spirit makes us a fountain of living water (Jn 7:38) and helps us in contending for the faith in times like this (Eph 5:18; Jude 20).
Receive the sacraments frequently, especially the sacraments of reconciliation and the Eucharist. The sacraments help us to remain steadfast in the faith. They enable us to connect with Jesus who tells us in Jn 15:5-6, that unless we abide in Him and He abides in us, we cannot bear fruit.
Get involved actively in evangelization. Pope Francis said, "How I long to find the right words to stir up enthusiasm for a new chapter of evangelization full of fervour, joy, generosity, courage, boundless love and attraction! Yet I realize that no words of encouragement will be enough unless the fire of the Holy Spirit burns in our hearts. A Spirit-filled evangelization is one guided by the Holy Spirit, for He is the soul of the Church called to proclaim the Gospel….I implore Him to come and renew the Church, to stir and impel her to go forth boldly to evangelize all peoples" (The Joy of the Gospel, 261).
Spend time on the word of God – read, study and meditate upon it. It will build your faith, shine light on your path, make your life fruitful and give you an inheritance among the saints. (Josh 1:8; Ps 1:1-4; Acts 20:32).
Use your spiritual gifts actively in the prayer group and in the church at large. May the Lord give us the grace to know how much we need to keep awake in the times we are in so that we can maximize every opportunity to serve the Lord faithfully.
–ICCRS Leadership Bulletin, Jan.-Feb. 2017
Thompson headlines Kelowna event
Catholic evangelist Peter Thompson of Calgary will be featured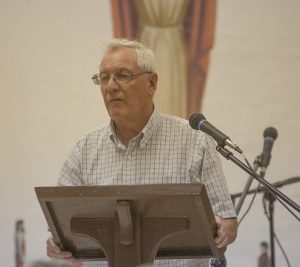 speaker Aug. 13-18 at Our Lady of Pentecost Gathering in the Spirit in Kelowna. Theme of the event, in the golden jubilee year of the Catholic Charismatic Renewal, will be Precious Embers—Catching the Fire.
Father Sylvester (Obi) Ibekwe of Creston, chaplain for the gathering, will also be a featured speaker.
The Gathering, formerly known as Our Lady of Pentecost Summer Institute, will take place at St. Elizabeth Seton House of Prayer in Kelowna. The schedule will begin with praise, worship and Mass Sunday, Aug. 13, starting at 5:30, and end after lunch on Friday, Aug. 18.
Talks will be held mornings and afternoons. A healing Mass open to all will be celebrated on the Monday at 6:15 at St. Charles Garnier Parish in Kelowna, and devotional activities are planned for Tuesday and Thursday evenings at Seton House. The Sacrament of Reconciliation will be offered at lunchtime Tuesday through Thursday.
The Gathering is presented by Nelson Diocese Charismatic Renewal Service Committee and endorsed by Catholic Charismatic Renewal Services of B.C., the provincial service committee.
Cost before June 15 is $500 per person including all meals and accommodations (double occupancy) at Seton House, or $275 for commuters, including all meals. After June 16 the cost is $550 live in, $325 for commuters. Seton House has a capacity for accommodation of 30, on a first-come, first-served basis. Capacity of the meeting room for Gathering sessions is 40. Some billeting may be available. For registration contact Maria McManus, 250-707-1423, untamedspirit@telus.net, 22-2035 Boucherie Rd., Westbank BC V4T 1Z6.
Peter Thompson was born in London, England, and educated by the Xaverian Brothers at Clapham College. He studied for the priesthood with the Holy Ghost Fathers, but discerned a vocation for lay life.
He served two years with the Royal Air Force in early warning radar. In 1962 he married his wife, Madeleine, and in 1967 they moved to Canada with their three young children. Peter worked in retail display and design for 20 years.
The Thompsons joined the Catholic Charismatic Renewal in 1974, during a crisis in their marriage and faith, and Peter was called into leadership. In 1990 with the call by Pope John Paul II to a decade of evangelization, the Thompsons were invited to join the Sion Catholic community for evangelization in England, and spent the next two years in door-to-door evangelization and street ministry.
Thompson also taught 20 years at the now-closed John Paul II Catholic Bible School in Radway, Alberta, served 12 years on the Canadian national service committee, and two terms on the international service committee. He has also served since 1998 with Renewal Ministries, headed by Catholic evangelist Ralph Martin; with Renewal he has travelled extensively in several African countries, and he was appointed country co-ordinator for Kenya in 2004.
Thompson is also a professional watercoulour artist and supports his ministry through the sale of his work.
He will speak Monday through Wednesday at the Gathering.
"I am looking forward to hearing Peter Thompson again and to see what the Holy Spirit has in store for us this year," says Loree Renwick, co-ordinator of the Gathering. "He never disappoints."
Father Sylvester Obiora (Obi) Ibekwe, originally from Nigeria, was ordained for the Nelson diocese in October 2015 and is currently pastor at Holy Cross Parish in Creston, with missions in Riondel and the Lower Kootenay Native Band. He has long been active in the Catholic charismatic renewal and was featured speaker at Our Lady of Pentecost Summer Institute in 2016, 2014 and 2013.
He will speak on Thursday and celebrate the closing Mass on Friday.
Lynne Williams     is co-coordinator of the event. Gladys Miller is master of ceremonies and Johanna Tournemille will lead music. Maureen Watson is in charge of the word gift team, Bev MacIntyre the prayer teams, Roy MacIntyre the after-talk activities, and Flo Reid the intercession ministry. Father Sylvester and Loree Renwick will organized the evening prayer events.
The renaming of the former Summer Institute was the result of a year-long process of discernment and discussion, says Gladys Miller, chair of the Nelson service committee.
"We were certain that the Summer Institute was instigated by the Holy Spirit," she says, "and it was our desire that it should evolve according to the Holy Spirit.
"We were aware that at least some and perhaps many viewed the SI as an extended conference, and we thought it should be more than that. We wanted it to be a place and time of formation, growth in discipleship and faith, empowerment to be disciples and ambassadors of Jesus.
"We hope that the people attending would be fired up with a stronger desire to serve the Lord wherever and however He calls. It is our fervent hope that the Gathering will have something to offer the novice and the seasoned."
The discernment process produced a vision statement: "To make missionary disciples who are empowered, equipped, and encouraged by the Holy Spirit." The accompanying mission statement says the Gathering is intended "to facilitate ongoing spiritual development to all who seek to live the Gospel in response to Jesus' call to make disciples out of all people."
This year's theme, Precious Embers—Catching the Fire, was discerned in connection with Exodus 3:2, Moses's encounter with the burning bush. "While the fire of the Holy Spirit consumes us, it never destroys us," says Miller.
"We have become increasingly aware of the need for renewal of God's people on all levels. No matter how long we have served the Lord and no matter the level of passion, 'there is always more,' to quote Pope St. John Paul II, and the time seemed opportune."
—Richard Dunstan
The Royal Road of the Cross
By PETER THOMPSON
featured speaker
Our Lady of Pentecost Gathering in the Spirit
Aug. 13-18, Seton House, Kelowna
Blazoned on the mind of every disciple of Jesus is the image of the Cross.
The first prayer we were taught is the Sign of the Cross. Before we could walk or speak, our parent guided our tiny hands to form the holy sign upon our bodies. We were baptized into Christ, signed with the Cross, born again of water and the Spirit. The heart and core of our faith was expressed by our parents and godparents as they signed our foreheads with this holy sign. At our baptism the royal road of the Cross began.
St. Paul in 1 Cor. 1:18 reminds us that the message of the Cross is complete absurdity to those who are headed for ruin, but to us who are experiencing salvation it is the power of God. Jesus gave us the supreme example of what it means to embrace the Cross. He left heaven, taking the form of man, knowing that He would lay down His life for all humanity, and that includes every one of us (Phil 2:6-11).
The Cross was foreshadowed long before Christ came. The prophetic word was clear that the Messiah would suffer grievously. Psalm 22 describes the crucifixion, as does Isaiah 53: the Suffering Servant. St. Paul in 1 Cor 11:1 invites us to "imitate me as I imitate Christ." Paul walked that royal road of the Cross, embracing daily the struggles, hardships and sufferings of being a true disciple of Christ. He lists a catalogue of trials in 2 Cor 11:16-32, inviting us to imitate him.
Throughout the centuries we are witness to countless saints, ordinary men, women and children who walked this road—some embracing the greatest witness of all, martyrdom, for the sake of the name. We, likewise, in our time are invited by Christ to take up our crosses daily, to imitate Christ. He promised to be with us, shouldering the crosses He allows us to carry. As He did with Simon of Cyrene, Christ now walks with you.
There is no escaping the crosses of life. We can seek to fight against them, reject them, grumble and complain bitterly. But in doing so we reject the very means God in His love gives to us, so that we, like our forefathers, can come safely home to the Beatific Vision.
St. James tells us to "rejoice when you suffer all kinds of trials and tribulations. Why? Because your faith is tested; this makes for endurance. Let endurance come to its perfection so that you may be mature and lacking in nothing" (James 1:2-4). Who amongst us does not suffer many trials throughout our lives? As we embrace these crosses, we are being made ready for heaven.
The words of Jesus in Matthew 11:28-30 never cease to give me courage to face whatever trial will come my way. In a CD I heard recently by Kimberly Hahn, she reminded us that if we ae currently in a lull between trials, then be assured this is a lull and trials (crosses) will return. We need to memorize these words of Jesus so that wherever on the road of life we are, then His word will penetrate our mind and heart: "Come to Me, all you who are weary and find life burdensome, and I will refresh you. Take My yoke upon your shoulders and learn from Me, for I am gentle and humble of heart. Your souls will find rest, for My yoke is easy and My burden is light."
Self-denial is a sure way to train ourselves for this royal road: disciplining our physical bodies, controlling our thoughts, curbing our tongues. In this way we are better prepared to embrace fully the trials, be they small or severe, that come our way.
Again, St. Paul gives us the example of the runner, racing to grasp the prize. He who would aspire to greatness in the field of athletics must learn from the start to exercise discipline, if he is to achieve his goal. We are seeking the highest goal of all, eternal life in Christ.
The hardest thing for us to do is to place our total trust in Jesus. Trusting that no matter what circumstances we find ourselves in, God in His wisdom is working tirelessly for our salvation. In our embrace of the Cross, we join with Christ in the work of salvation. Christ invites us to pick up our crosses daily and follow Him.
This is the royal road that will lead to victory.
(Originally published in The Bread of Life, July-August 2016.)
Mercy: Our only reason for hope
By RICHARD DUNSTAN
How do we know God is merciful? Well, for one thing, because the world still exists.
If God hadn't forgiven our sins, His justice would have annihilated the world, Bishop Sam Jacobs told the provincial Catholic charismatic conference in Vancouver. But God has given us mercy instead of justice.
"He gave us what we don't deserve, and that is forgiveness, that is healing, that is mercy," Bishop Jacobs said. "What God does not give us is justice, because if He gave us justice, none of us would have a chance.
"All is mercy, because we deserve none of the gifts God gives us."
Bishop Jacobs, of Louisiana, chair of the U.S. national service committee for the Catholic charismatic renewal, and Dr. Margarett Schlientz, of Wisconsin, whose ministry combines theology and psychiatry, were featured speakers at the conference, jointly sponsored by Catholic Charismatic Renewal Services of B.C. and Vancouver Catholic Charismatic Renewal Services. More than 1,100 attended.
The conference returned to Broadway Church, a Pentecostal church approved for Catholic events, after three years in other locations.
Bishop Jacobs said God is like the father in the parable of the Prodigal Son (Luke 15:11-32), which he said should really be called the parable of the foolish father, because the father's generosity goes far beyond common sense. He accepts the insult of his son effectively wishing him dead, by claiming his inheritance early; then he spends his time waiting for him to come back from throwing the inheritance away on a life of sin, runs to him and kisses him, and throws a feast for him. So there's no reason for us to stay away from confession for years, the way some fallen-away Catholics do.
"The Father is waiting with open arms for you to come back. Why are you waiting? No matter how far we feel from God, the Father is waiting. All we have to do is pronounce that word from the heart—'Father, I need You—and He'll forgive you, no matter what you've done."
Of course, we're supposed to do something with that mercy we've received. We're supposed to pass it on. If we refuse, we're refusing God's mercy for ourselves as well.
"God does not show mercy and healing to those who are in rebellion, to those who refuse to show mercy for others," Bishop Jacobs said. "God doesn't refuse us His mercy—we refuse to accept His mercy. We want mercy on our terms—we have to receive it on His terms. To the extent you are open to mercy for others, to that extent you receive mercy from God."
God's mercy begins in baptism, Bishop Jacobs said; we are born alienated from God, and in baptism we are united with Him. Mercy continues in the Eucharist, in the sacrament of reconciliation, and in the anointing of the sick.
If we don't approach it as wholeheartedly as we should, he said, confession can be like cutting weeds—the weeds will grow back again. We need to give God permission to uproot our sins, and when we go to confession we should ask the priest to pray that God will heal us in the core of our sins.
The liturgy of the Eucharist contains many references to mercy, he said: "Lord have mercy" at the beginning, and "Lamb of God, You take away the sins of the world, have mercy on us," and "speak but the word and my soul will be healed" just before Communion. "We need to step out and expect that God is going to do mighty deeds in our lives because of the Eucharist."
As for anointing of the sick, we can look for healing there too. "It's not the sacrament of the dying, it's not the last rites, it's the sacrament of the healing of the sick," he said. His own dentist was diagnosed with a brain tumour the size of a grapefruit; he would die without surgery and might die, or be left in a vegetative state, even with surgery. He received the anointing of the sick, and prayer, and the surgeon found only a pea-sized tumour that did not penetrate the brain.
The bishop noted, though, that the ultimate healing is sometimes death. God may want us with Him in eternity, where there will be no more suffering. "He's God, and we're not."
Bishop Jacobs said Mary is the Mother of Mercy: prepared from the moment of her conception to be the mother of the Saviour, "she literally brought the Divine Mercy to birth in the world: mercy incarnate, Jesus Christ. Her motherhood of us all was sealed at the foot of the Cross, and after her assumption into heaven she continues to come to our aid.
Dr. Schlientz also stressed the Eucharist – and the need to show mercy to others.
Noting that there are 70 million ex-Catholics in the United States alone, she said the Eucharist "is the greatest miracle, and we have it right in our hands. It's the cure for everything, and we walk by it as if it doesn't exist." She told of a priest who was healed of an addiction to pornography by spending one hour prostrate in front of the Blessed Sacrament, and she urged Massgoers not to bypass the chalice when receiving Communion. "Satan hates the Precious Blood," she said. She told of a woman who was healed of Lyme disease by receiving from the chalice, and noted that the U.S. Centers for Disease Control and Prevention check chalices regularly for germs and have never found a dangerous organism.
But she, too, said we have to pass God's mercy on by forgiving others. Too many people are still angry at somebody after receiving the Eucharist, as can be seen in any church parking lot.
"Something is wrong with this picture," she said.
"Forgiveness is the hardest human task there is. People find hundreds of excuses not to do it." She said we can't forgive by our own efforts, but must ask for God's help. "You can't do it, but God can."
Since we receive Jesus in the Eucharist, we must be Jesus to those we meet. "When people see you, do they see the Lord? Ask yourself this every evening in your examen [examination of conscience]."
"When Jesus came down from the mountain [after the Sermon on the Mount] the crowds were following Him  (Mt. 8:1). They should be following us—right into the Church.'
She said we must pray for seminarians—whose numbers have increased dramatically in recent years—and for priests, and not criticize them. "They are instruments of God—they aren't supposed to be perfect." We must even pray for the people in ISIS, and love them as well. "I watch TV news because of the negativity," she said. "It is our responsibility to pray for everyone who commits a criminal act."
Dr. Schlientz also said we must pray for healing, of ourselves and others, and expect results. "We rely too much on ourselves. We're all educated, and we think that's enough." She prays at every opportunity. For example, she once prayed in a fabric store, with a woman who was buying material for a turban—a fact that identified her as a cancer patient.
"Medical science has much to offer, but it will never replace healing prayer," she said. "There are many places of affliction that medical science cannot touch."
"Our problem is, our God is too small. We don't ask enough. We don't trust enough.
"We may pray for a lifetime [for a particular need]. God is always moving in some way. It may be delicate, it may be subtle, but it is not absent."
Bishop Jacobs is retired bishop of Houma-Thibodaux in Louisiana, previously bishop of Alexandria, Louisiana. Born in Mississippi but raised in Louisiana, he was ordained in 1964 and served there in the dioceses of Lafayette and St. Charles as parish priest and chaplain, and diocesan director of vocations and seminarians. He was named bishop in 1989. He was named to the national service committee in 1982 and was chairman from 1987 to 1993; he returned to the committee in January 2015. He also chaired the committee for evangelization for the U.S. Conference of Catholic Bishops from 2005 to 2005, and is currently a member of the committees on laity, marriage, family life and youth, and evangelization and catechesis. He retired as diocesan bishop in 2013 but continues to serve as a speaker, as well as operating the Spirit Aflame website, http://www.spiritaflame.org/ . He was featured speaker at the 2015 Our Lady of Pentecost Summer Institute in Kelowna.
He may be seen on YouTube at http://www.bing.com/videos/search?q=youtube+bishop+sam+jacobs&qpvt=you+tube+bishop+sam+jacobs&FORM=VDRE.
Dr. Schlientz, a Wisconsin resident, holds a doctorate in psychiatric nursing and master's degrees in theology, spirituality, and psychiatric nursing. She is founder of the Pope Leo XIII Institute for the education of priests in exorcism and deliverance, and assistant director of the Institute for Priestly Formation at Creighton University in Nebraska. She is co-author of the RISEN program (Re-Invest Spirituality and Ethics in the          Networks of Health Care), and presents it regularly to health care systems across the U.S. She has held teaching and administrative posts at Marquette University in Milwaukee, speaks at conferences and parish missions, and ministers as a spiritual director to priests. Her website is https://drmargarettschlientz.com/. She is on YouTube at https://www.youtube.com/watch?v=yre6KPH7RJg.
Going to heaven in Duquesne
David Mangan went to heaven 50 years ago—without dying.
It was Saturday, Feb. 18, 1967, the middle of the famed "Duquesne weekend" that marked the beginning of the Catholic Charismatic Renewal. About two dozen students from Duquesne, a Catholic university in Pittsburgh, were attending a retreat on campus, looking for an experience of the Holy Spirit like a handful of individuals had experienced over the previous couple of months while attending interdenominational prayer meetings.
Mangan was upstairs in the retreat centre chapel praying when he was overwhelmed by what he later learned was called baptism in the Holy Spirit.
"You are probably aware of a phrase that some people say when they are extremely happy about something," Mangan wrote in 2014 in Pentecost Today, the magazine of the National Service Committee for the Catholic Charismatic Renewal in the USA. "They say, 'I thought I died and went to heaven.' I realize that everyone's experience is different, but when I was baptized in the Holy Spirit I thought I remained alive and went to heaven."
He found himself face down on the chapel floor, felt "little explosions" going on in his body, and began praising God in what he later learned was the gift of tongues. Other members of the group were baptized in the Spirit later the same day, and the Catholic charismatic renewal was under way.
Mangan, a longtime leader, speaker and author in the renewal, is this year's featured speaker at the Nelson Diocesan Charismatic Renewal Conference, April 28-29 at St. Charles Garnier Parish in Kelowna, with the title Jubilee of Fire. The conference date falls just after the publication date of the spring B.C. Charismatic, and a full account will be carried in the fall edition.
In the Pentecost Today article, Mangan wrote that praise, healing, and tongues are wonderful gifts of the Holy Spirit experienced within the renewal, but the most important gift—"our charism"—is what he calls the "glimpse of heaven" he had in the chapel.
This glimpse may come in obvious religious settings like prayer time, Mass, or prayer meetings, he said, but also in less obvious settings—seeing a newborn baby, serving the poor. And "although we may have experiences where we feel great joy, it is not the feeling that is the gift. The gift is that ability to recognize it for what it is, a glimpse of heaven. The gift is the action of the Holy Spirit in our life whether we feel good about it or not."
"I am looking forward to my next glimpse. But if I never have another 'glimpse of heaven,' I know that I have already received more than I could ever deserve. But I am sure we all are looking forward to that day when we get infinitely more than a glimpse. That is the day when "we shall see Him as He is" (1 John 3:2).
—Richard Dunstan
Nelson retreat: Becoming ambassadors for Christ
By LYNNE WILLIAMS
(Editor's note: The Nelson diocesan charismatic leaders'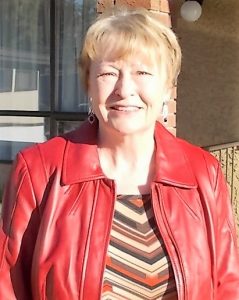 retreat was held Sept. 30-Oct. 2 at Seton House in Kelowna, with Gladys Miller, diocesan service committee chair, and Father Sylvester [Obi] Ibekwe, diocesan liaison, as speakers.)
Talk 1 – Ambassadors for a New Heart – Gladys Miller
What does the dictionary have to say about the word "ambassador?" It is a Hebrew word meaning one who goes on an errand; an interpreter; a messenger.  An ambassador for Christ is all of these things. It is a title used by St. Paul in designating those appointed by him to declare God's will. To do injury to the ambassador is to do injury to the king who sent him.
"So we are ambassadors for Christ, since God is making His appeal through us; we entreat you on behalf of Christ, be reconciled to God. For our sake He made Him to be sin who knew no sin, so that in Him we might become the righteousness of God." (2 Cor. 20-21)
"Pray in the Spirit at all times in every prayer and supplication. To that end keep alert and always persevere in supplication for all the saints. Pray also for me, so that when I speak, a message may be given to me to make known with boldness the mystery of the gospel, for which I am an ambassador in chains. Pray that I may declare it boldly, as I must speak." (Eph. 6:18-20)
We have a privileged place in God's kingdom because we represent Jesus Christ and his reconciliation to others. We are called to proclaim the gospel to all nations. To do so we must be soaked in scripture, putting our trust in God and recognizing that everything is a gift from God. God will provide all that is necessary for us to do His work.
How does Jesus expect us to be His envoy? "So if anyone is in Christ, there is a new creation; everything old has passed away; see, everything has become new!" (2 Cor. 5:17) "Create in me a clean heart, O God, and put a new and right spirit within me." (Ps. 51:10). It is through a new heart that we become a new creation. This requires co-operation, patience, study, obedience (dying to self), and self-discipline.
We are required to grow and change. "A new heart I will give you; and I will remove from your body the heart of stone and give you a heart of flesh.  I will put My spirit within you and, and make you follow My statutes and be careful to follow My ordinances." (Ez. 36: 26-27)
Pope Emeritus Benedict XVI has said that the ways of the Lord are not easy. We are not created for an easy life but for a life of greatness.
Would you like a new heart? Ask for one. Resting in the Spirit is like open heart surgery; the Spirit will stir up your gifts, showing, guiding and providing opportunities and many graces. Pray for holy boldness, zeal for the salvation of souls, and a new heart to be obedient to the Master's call no matter the cost. Seek to put God first in your life and all will fall into right order; pray to Jesus to remove blockages such as fear, timidity and any other paralysis. Take your eyes off yourself and put them onto Jesus.
Talk 2 – Reflection on 2 Cor. 5 – Father Obi  Ibekwe
"For our sake He made Him to be sin who knew no sin, so that in Him we might become the righteousness (holiness) of God." (2 Cor.5: 21) For some people, this is the most important verse in the bible. Sometimes we see ourselves as sin (because of our many sins), but Jesus comes to save us so that He becomes sin in order that we can be reconciled with God.
We live in difficult times, in a world that is strange and puzzling. Into this world, Jesus is calling us to enter into these troubling situations and become ambassadors for him. We are the risen presence of Jesus in this world, and as we serve as His ambassadors, He walks in this world through us.
Proclaiming the good news is a magnificent commission. "I am about to do a new thing; now it springs forth, do you not perceive it?" (Is. 43:18) "For I am about to create a new heavens and a new earth …" (Is. 65:17)
To preach the message of Christ and Him crucified, we must bring the message of God's great love for all people in the sacrificial offering of his son, Jesus, on the cross. He wants all to receive reconciliation and peace. In Jesus' rising, death is forever overcome as his followers are promised everlasting life and unity with God. These promises are for all time.
Talk 3 – The Holy Spirit Enables – Gladys Miller
Our ambassadorship is under the guidance of the Holy Spirit. "The thief comes only to steal and kill and destroy. I came that they may have life, and have it abundantly." (Jn. 10:10) this scripture is not about material things; it is about being with God and receiving from Him all He wants for us. It is His plan that we enjoy, not endure. To love a party and to celebrate is important. We should celebrate our ambassadorship even though we have trials.
"God is faithful, by him you were called into the fellowship of His Son, Jesus Christ, our Lord." (1 Cor.1:9) "But you will receive power when the Holy Spirit has come upon you; and you will be My witnesses in Jerusalem, in Judea and Samaria and to the ends of the earth." (Acts 1:8)
When the Holy Spirit comes upon us we will be empowered. Bloom where you are planted; everyone has ministry and one does not need to go searching it. The Holy Spirit surprises us and speaks through us. Passion, that love of our ministry and fire in our belly, is needed to proclaim Jesus crucified and risen. All our gifts are good and God calls us the use them, following the lead of the Holy Spirit.
What happens when others are unhappy with your ministry? Turn to the Lord in prayer, asking, "what do You want me to learn from this?"  Involve your spiritual director and repeat the process, if necessary. "Meanwhile, the church … had peace and was built up. Living in the fear of the Lord and in the comfort of the Holy Spirit …" (Acts 9:31)
Satan is busy, but God is busier. The better we know God, the more we trust Him; the better we trust Him, the better we know Him. How do we grow in the knowledge of God? We grow through reading scripture, attending daily Mass, praying, journaling (a love letter to God), and receiving the sacraments. In the Eucharist, you become what you eat.
If we are going to become ambassadors for Christ, we need to know Him and become like him. "Bear with one another and if anyone has a complaint against another, forgive each other; just as the Lord has forgiven you." Honour Christ by your conduct.
To be afraid of God is an unholy fear. Scripturally, to fear the Lord is to love Him. Fearing God involves reverence, respect, obedience, submission, worship, awe, living in his righteous standards and honouring him in all we do. Fear of the Lord is the beginning of wisdom and love from the Lord is its completion.
God loves us and will never leave or forsake us. "Am I not free? Am I not and apostle? Have I not seen Jesus our Lord? Are you not my work in the Lord? If I am not an apostle to others, at least I am to you; for you are the seal of my apostleship in the Lord." (1 Cor. 9:1) May you claim your apostleship, living in peace, loving and serving the Lord.
Blessed Elena Guerra, mother of the renewal
By DEACON CHRISTOF HEMBERGER
ICCRS council member—Germany
Blessed Elena Guerra (1835–1914) is remembered in the history of the Charismatic Renewal as someone who prepared the way. She courageously pursued what was on her heart: The Holy Spirit needs to find room again in the Church's awareness! But who was this woman who caused a whole century to be called an "era of the Holy Spirit" – and what did she really achieve?
Blessed Elena Guerra was born into a wealthy aristocratic family in Lucca, Italy, and was educated as befitted her rank. Her nature was shaped by the desire "to do good for God." Her heart was burning for the conversion of unbelievers. She willingly visited the poor and ill of her city. She wrote down her spiritual intentions and thoughts in small brochures and tracts. Elena gathered like-minded people, and as a young woman she founded prayer groups and prayer initiatives ("the perpetual world-wide Upper Room") and the Congregation of the Oblate Sisters of the Holy Spirit.
It was Blessed Elena's desire to bring people into a close relationship with the Holy Spirit. Church and society – Blessed Elena says – need the Holy Spirit as never before for their own renewal and vivification! She was untiring in this task: she encouraged prayer to the Holy Spirit and exchanged letters with priests and bishops exhorting them to teach and preach about the Holy Spirit. In her diaries, Blessed Elena called herself "a poor maidservant of the Holy Spirit" and even a "baggage porter of the Holy Spirit." As the reaction she received for her efforts still seemed too small, the desire to ask the Pope for support and for a global spreading of her intention, grew more intensely in her.
Blessed Elena's message was received by Pope Leo XIII (1810-1903) readily and in openness: Only three weeks after her first letter, the Pope introduced a solemn period of prayer to the Holy Spirit between Ascension and Pentecost (now known as Pentecost novena). Between 1895 and 1903, Blessed Elena wrote a total of thirteen letters to the Pope. She encouraged him to urge the bishops to pray together with the faithful for a new outpouring of the Holy Spirit as well as for the unity of Christians, which only the Holy Spirit could bring about. In 1897, Pope Leo XIII responded to Elena's desire by writing an encyclical ("Divinum illud munus") about the Holy Spirit. This teaching document was about appreciation for the Holy Spirit and His gifts.
While in 1900, Pope Leo had consecrated mankind to the Heart of Jesus on the occasion of the Holy Year, Blessed Elena was moved in her heart to ask the Pope to begin the new century by calling down the Holy Spirit. Pope Leo took up this suggestion and sang the hymn "Veni Creator Spiritus" (Come Holy Spirit, Creator Blest) in the name of the whole Church. This prayer did not remain without effect. On the same day, the Holy Spirit really came with his gifts as in the days of the early Christians.
However, it was answered in a different way than Blessed Elena and the Pope had expected: The Holy Spirit was first experienced in a new way by people outside the Catholic Church, who had earnestly sought Him in prayer: In the evening of that same day when the Pope prayed in Rome, a group of American Protestants gathered around Charles Fox Parham (1873-1923) experienced an outpouring of the Holy Spirit and his gifts. A second initial event for the so-called Pentecostal movement was a revival in the Azusa Street Mission in Los Angeles led by the African American William J. Seymour. The Holy Spirit did not adhere to confessional boundaries.
It took quite some time until members of the Catholic Church received the Baptism in the Holy Spirit and experienced the outpouring of the charisms in 1967, which we consider to this day the starting point of the Charismatic Renewal in the Catholic Church and which we celebrate in the 50 year Jubilee in 2017.
Exactly at a time when our Church underwent major changes (the secular power of the Popes disintegrated with the loss of the Papal States during the time of Blessed Elena Guerra), this small, unimpressive religious sister helped the Church refocus on a power of the Church which did not rely on rule or armies and had been forgotten for a long time: the power of the Holy Spirit.
At her beatification on 26 April 1959, Pope John XIII called her a "missionary of the veneration of the Holy Spirit in our present time" and thus testified to Blessed Elena's extraordinary vocation in the church and for the church, which she lived courageously – which makes her a model for us to this day.
—ICCRS Newsletter, Jan.-Feb. 2017
Jubilee marked in Rome
Five days of special events are scheduled in Rome May 31-June 4 in honour of the Golden Jubilee of the Catholic Charismatic Renewal. A substantial number of charismatics from B.C. will be attending these events on pilgrimages organized in Vancouver, Kelowna, and Edmonton.
The celebration opens with a general audience with Pope Francis, who invited charismatics to Rome for the occasion in his address to a charismatic rally that drew 50,000 people to Rome's Olympic Stadium in June 2014. It closes with a Mass celebrated by the Pope in St. Peter's Square June 4, Pentecost Sunday.
Other events include a worldwide jubilee gathering with Mass, a Pentecost vigil with the Pope, prayer meetings, devotional sessions, workshops, leaders' meetings, and a theological symposium.
The jubilee events mark the 50th anniversary of the Duquesne Weekend (see also Page 5), when a group of Catholic students at a retreat at Duquesne University in Pittsburgh received baptism in the Holy Spirit after praying for an outpouring of the Spirit. The weekend took place in February but the jubilee celebrations are centred on Pentecost, the day the Church celebrates the first outpouring of the Spirit in Acts Chapter 2.
Vancouver conference coming Sept. 22-23
Most Rev. Peter Smith, auxiliary bishop of Portland, and Dr. Mary Healy of Ann Arbor, Michigan, a leading Catholic Bible scholar, will be featured speakers Sept. 22 and 23 at the Vancouver archdiocesan conference.
The conference will take place at Broadway Church, 2700 East Broadway (corner of Slocan), a Pentecostal Assemblies of Canada facility approved by the archdiocese for Catholic events.
Bishop Smith, 56, is a member of the Brotherhood of the People of Praise Community, a charismatic community which grew out of the People of Praise at Notre Dame University in South Bend, Indiana, and is now based in Portland. He has also served as archdiocesan liaison to the charismatic renewal.
Born in South Africa in 1958, he served in the South African Army and earned degrees in business administration and law, intending to join his father's law firm, but instead felt called to Christian community in the United States, where he moved in 1983. He was ordained to the priesthood in 2001 and was named bishop in 2014.
Dr. Healy completed her doctorate in biblical theology at the Pontifical Gregorian University in Rome in 2000. She is associate professor of Scripture at Sacred Heart Major Seminary in Detroit, a member of the Pontifical Biblical Commission which advises the Pope on scriptural issues, and co-editor of the Catholic Commentary on Sacred Scripture, a multi-volume commentary currently in progress.
She is also a member of the doctrinal commission of International Catholic Charismatic Renewal Services, and former co-ordinator of the Mother of God Community, a charismatic group in Maryland.
B.C. Charismatic
CCRS of BC newsletter
published spring and fall
editor Richard Dunstan
308-225 Belleville St.
Victoria BC V8V 4T9
email: richard@thedunstans.com
phone: 250-477-4700
website: www.bccharismatic.ca

Posted in Uncategorized